Fishing Whitsundays
Fishing Whitsundays is locally owned and operated in the Whitsundays, being Eco Certified we focus on eco-friendly fishing, local hotspots and an authentic Australian experience! With a local skipper, a stable, state-of-the-art catamaran, and an abundance of fish, Fishing Whitsundays is the perfect way to spend a morning, afternoon or evening in this beautiful part of Australia. The tour is great for both experienced anglers and first time fishers, making it the perfect tour for everyone. We are also available for private charters where you can fish in some of the best kept secrets of the Whitsundays with all of your friends and family, for an all inclusive day.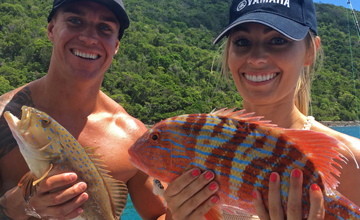 About Your Trip
Fishing Whitsundays takes pride in our reefs, sea life, Island and everything else the Whitsundays has to offer. During your day with us, we'll take you to our favourite fishing spots where you'll get to fish at your own leisure as we show you the ropes, sharing tips and tricks for catching some of the best fish. There are morning, afternoon and evening departures, as well as full and half-day private charters to enjoy with your family and friends.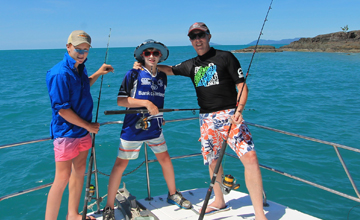 About Your Crew
Our stable fishing catamaran is skippered by a Whitsundays local fisherman who has been fishing in the area for over 20 years. Bringing with him his local knowledge, he'll take you to some of his favourite spots, passed down as family secrets for some of the best fishing around the area. Sticking to the local bays of the Whitsundays, you'll spend less time travelling and more time fishing to walk away with dinner and memories to last a lifetime.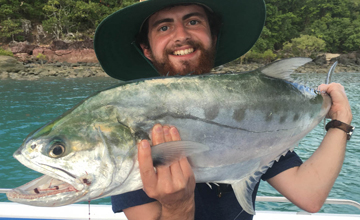 About The Catch
The Whitsundays are abundant with marine life, making it the perfect place for those looking for an amazing day of fishing in one of the most beautiful places in Australia. Try your hand at catching Giant Trevally, Spanish Mackerel, Coral Trout and Tuna while you learn about the fish species that live in the area. You'll get to keep everything (of size) you catch, with the chance to have it cooked multiple ways at our favourite local restaurant, Fish D'vine.